FACIAL THERAPHY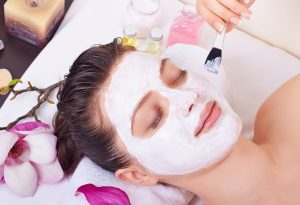 No two skins are alike, all skin treatments are customised to you skins needs and concerns leaving you with a vibrant and youthful complexion. That's why here at Char's Beauty Room, using only superior quality skincare products that will rejvenatate your skin and youthful complextion.   Relax and be pampered by qualified Beauty Therapists and enjoy your incredible facial treatments. Enjoy a restorative and relaxing facial and feel and look your best.  Offering a variety of facials and tailor each treatment to suit your skin type and individual goals. Book an appointment today, you won't regret it!
Skin Analysis & Mini Treat $65
Let  me play detective and devise an individualised treatment plan – being with a woods lamp skin analysis to pin point your skin conditions then finish off with a mini treat to get a taste of our skincare range.
Pure & Delicate – Teen or Problematic Skins $75
 
Pollution, stress and hormone imbalances can leave skin clogged, acne prone and lifeless. This facial is designed to leave your skin feeling thoroughly clean, balanced and energised. This will help correct sebum production, eliminate impurities, refine pores and re-balance your skin. 
Super C Workout – $130
This illuminating treatment makes the skin glow! Revitalizing skin Cells with intense energy and increasing vitality, reducing Pigmentation, Sun damage, fine lines & wrinkles and making even the dullest skin. Skin is luminous and radiant. Comes with double cleanse, brush machine, enzyme peel, concentrated Vitamin C peel off mask, High concentrate of vitamin C Ampoule, Tone, Moisturiser and spf.
NOTE: Due to the peel off Vitamin c mask used in this facial may take up to 20 to 40 minutes to completely dry.
Custom Signature Facial – $130
Whether your skin needs extra hydration or nourishment, a deep cleaning, gentle resurfacing, or a uniquely individualized maintenance treatment, this facial is completely customized to treat and correct all of your concerns. Whether your concerns are anti-aging, dryness, damage, or problematic skin, this service is based on your individual needs and concerns. Enjoy the relaxing hand , arm and throughout this customized treatment.*Double cleansing, *Exfoliation, steaming with enzyme peel,extractions if needed,Pumpkin Puree Enzyme Masque , tone , Spf & Moisturizer
Four Layer Facial – $140
Ultimate facial experience! Begin with a microdermabrasion followed by a AHA Fruit Peel to soften and decongest skin. Finish with a moor mud mask while performing an Oxygen infuses moisture, vitamins and antioxidants into the skin via cooling, calming topical hyperbaric oxygen, giving luminous, unparalleled hydration and visible, age-defying results. perfection!
Pumpkin Enzyme Facial – $125
This powerful antioxidant treatment Facial is full of Vitamin A, Vitamin C will brighten the tone and smooth the texture of your skin. Pumpkin enzymes are combined with Citric Acid to gently exfoliate and draw out all impurities, administering visibly clearer skin with diminished damage, discoloration and Acne and scarring. Great for ALL skin types! Includes double cleanse , Softening Scrub, Pumpkin Purée Enzyme mask, Serum , Spf and moisturiser.
Sexy Back Rescue – $85
This popular treatment intensively targets this much neglected area, your back is cleansed, steam,, exfoliated and toned to remove impurities and dead skin cells. Moor mud mask applied clears congested pores and brightens skin as it draws out impurities. Enjoy a foot exfoliation and hot towel whilst it is setting an application of nourishing moisturiser leaves your back feeling hydrated and refreshed..
Facial Boosters
Enhance your facial experience with one (or all!) of these add-ons.
| | |
| --- | --- |
|        Corrective booster Serum | $10 |
| Micoro or Hydro  | $30 |
| Eye Revive Mask | $10 |
| Hydrojelly   mask | $25 |
| Pumpkin Puree Enzyme Mask | $20 |
| Oxygen Infusion | $30 |
| Peels | $25 |
| Extractions | $15 |