SHR HAIR REMOVAL
Consultation & Test patch $35
NOTE : ALL NEW Clients require a full consultation &Test Patch before commencing any SHR treatments. 
Just  after 2 sessions                                                 After 7 sessions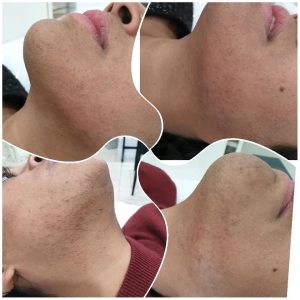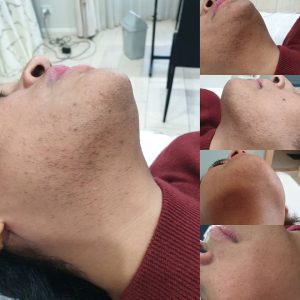 Do I need a consultation?
Definitely! Everyone's skin and hair is different that's why it's important our clinical therapists assess your hair during a consultation, During your consultation test past is preformed make sure there are  no reactions and you get feel  how amazing this technology feels without pain.  Yes No pain!!  , it's also an opportunity for you to discuss any concerns, medications you are taking along with what to expect during the treatment and how to take care of your skin after. 
Faster, more power, better results with LASER TECHNOLOGY MIXED WITH IPL IS A NEW CONCEPT WITH FAR GREATER RESULTS & MAXIMUM BENEFITS. PAIN FREE TREATMENTS.
The difference between IPL SHR and other IPL machines is that SHR scans the treatment area with  
up to 10 flashes per second. This gradually heats the targeted  area for painless hair  reduction, instead of high intensity shots that can cause discomfort, experienced with  traditional IPL.    
SHR is unlike any other treatments out there, even though it is based on IPL technology its is not IPL and is a totally different application to IPL. It works by gradually heating the skin to a temperature that effectively damages the hair follicles and prevents re-growth, while avoiding injury to the surrounding area.
This is achieved by using In-Motion technique of moving the applicator repeatedly over the treatment area; all ensuring full coverage while simultaneously cooling the skin surface- preventing injury and allowing for virtually pain-free, yet highly effective hair reduction.
SHR/ HAIR REMOVAL LADIES SINGLE TREATMENT
pre pay 8 or more get 20% off
| | |
| --- | --- |
| Chin | $35 |
| Lip | $35 |
| Lip & chin | $60 |
| Front of Neck | $35 |
| Side of face | $39 |
| Jaw line | $35 |
| Full face, lip, chin & sides | $99 |
| Full face + neck | $139 |
| Underarms | $45 |
| Bikini | $50 |
| Brazilian | $80 |
| Lower Back | $60 |
| Cheeks (Bottom) | $70 |
| Stomach | $65 |
| Upper thighs | $160 |
| Half legs (dose not included feet or toes) | $125 |
| Full Leg (dose not included feet or toes) | $180 |
| Half arms (dose not included hands or fingers) | $110 |
| Full arms (dose not included hands or fingers) | $140 |
| Full leg (dose not included  feet  or toes) | $180 |
| Full arms  (dose not included hands or fingers) | $160 |
| Brazilian & Underarms | $115 |
| Full Leg, Underarms & Brazilian | $295 |
| Half Leg, Brazilian & Underarms | $249 |
SHR/SINGLE SESSION HAIR REMOVAL MEN'S
| | |
| --- | --- |
| Full Back | From $200 |
| Shoulders | $50 |
| Underarms | $60 |
| Upper Thighs | $170 |
| Neck | $50 |
| Chest | $95 |
| Stomach | From $95-150 |
| Chest & stomach | From $250 |
| Beard & neck | $85 |
| Full legs | $235 |
| Full Arms | $160 |
| Half Arms | $140 |