SC Resurfacing Peel
SC Resurfacing Peel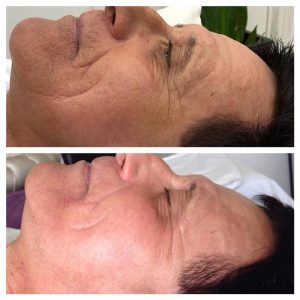 After 4 treatments
Resurfacing Peel is designed to target dull, ageing and acne skins. It uses alpha-hydroxy acids (AHA's), along with a concentrated blend of five botanical extracts to gently revitalise and exfoliate the skin in just 3 minutes. With continued use, SC Resurfacing Peel can help reduce the appearance of line, pigmentation, scarring, improve skin texture and clear away dead skin cells revealing brighter, fresher skin. SC Resurfacing Peel. All natural ingredients delivering results in 3 minutes and without down time.
The Schmelzkopf Resurfacing Peel uses a combination of Glycolic Acid and five
fruit extracts bilberry, sugar cane, sugar maple, orange, and lemon.
Alpha hydroxyl acids (AHA) to benefit skin suffering from:
Acne / Clogging
Scarring
Sun-damaged
Glycation
Menopausal
Any signs of aging
Schmelzkopf Resurfacing peel is highly effective and has minimum irritability on
the skin leaving minimal redness and no severe skin burn. The peel is a
nonirritant with an alkaline Ph of 2.
Key Benefits:
removes dead skin cells and produces instant skin softening.
Eliminates the outermost layer of the dead cells to give a fresher, brighter and younger-looking skin.
Generate free protons
Smooths fine lines and wrinkles
Packed with anti-oxidants that help prevent and reverse damaged cells caused by free radicals
Natural exfoliant that helps to brighten the skin
Anti-bacterial, promotes healing and scarring
Source of Vitamin E and prevent wrinkles and facial lines
Source of Vitamin C to help reverse and prevent skin damage
Increases formation of glycosaminoglycans which is rich in protein making lactic acid an active moisturizer
Produces collagen production
Boost skin elasticity that is best for women in their mid-20s and up.
Coming Soon introductioy offer Free microdermabration with Resurfacing Peel $69     Value $129
Add Hydojelly mask $25
ADD ON TO A FACAIL $30
30 minute – Double cleanse peel, serum, moisturizer , SPF $49
1 hour- Double cleanse , peel, serum, mask, moisturizer   spf $85