RF SKIN TIGHTENING…COMING SOON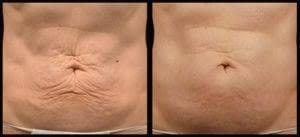 What is RF Skin Tightening?
Radio Frequency (RF) Skin Tightening is an effective treatment for addressing skin laxity on the face and body and is commonly used for non-surgical face and body lifts such as under eye bags, neck, jowls, buttocks, décolleté firming and postnatal tummy tightening. During an RF Skin Tightening treatment the temperature in the sub dermal layers of the skin increases, causing shortening (tightening) of the collagen fibres and stimulating new collagen development. This treatment requires no downtime and results are immediately noticeable, becoming even more so in the weeks following the treatment as the build-up of collagen effects further skin contraction.
RF Skin Tightening may be performed as a stand alone treatment offering skin tightening results or combined with ultrasound fat cavitation to aid further fat breakdown and tighten the skin in the area where the cavitation treatment has taken place.