HYDRODERMABRASION 
Regenerate, Brighten & Hydrate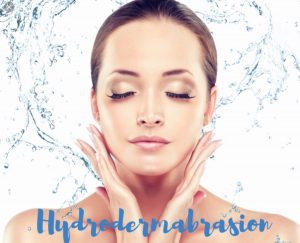 Hydrodermabrasion combines microdermabrasion exfoliation technology with hydrating fluids to penetrate your skin, allowing your skin cells to absorb the nourishing ingredients and giving instant revitalisation to under-nourished, tired, dehydrated and sunken skin. Hydrodermabrasion is suitable for treating the face, neck and décolletage.
Ongoing, fortnightly/monthly treatments are highly beneficial in creating noticeable changes in the skin's appearance – diminish the appearance of fine lines, wrinkles, congestion, large pores and thickened skin. Leaving clean, clear, plumped hydrated skin  .Hydro Dermabrasion is a excellent treatment for skins that are effected by seasonal changes dryness in winter,  bumps and hydrates during the warmer months. Extra boost of moister in the warmaer months to keel you skin hytrated and youthfull.
BENEFITS OF HYDRO-DERMABRASION
Remove years of build up
Ideal for seasonal skin changes
Smooths rough skin
Refines enlarged pores
Evens out skin tone
Reduces blackheads and white spots
Helps prevent clogged pores
Improved skin texture and tone.
Reduced fine lines and wrinkles.
Deeper hydration of the skin.
Improved blood flow leading to collagen production.
Reduced/improved acne scarring.
Improved uneven pigmentation.
Skin congestion, blackhead
Great for all skins, even sensitive skin
Express Hydrodermabrasion –$70
For maximum results in the minimum amount of time. This treatment includes double cleanse, microdermabrasion treatment,  completed with a moisture protective sunscreen.
Hydro dermabrasion Facial – $85 
 Indulge in a little extra Indulgence,  Cleanse, Exfoliation,  Hydro,  Mask, Eye Cream + Hydratioion,  Decolletage massage included.
Premium Hydro dermabrasion Treatment – $129
Cleanse, Hydro,   SC Resurfacing peel p , Hydojelly mask , supercharge ampule Serums + Head, hand and foot massage included)