KERATIN LASH ELEVATE
KERATIN LASH ELEVATE $90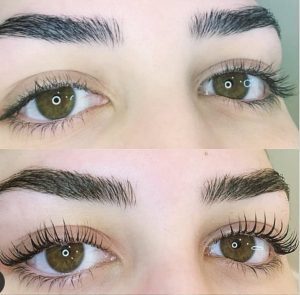 Keratin lash elevate is not just any lash lift. KERATIN Lash lift, developed by Amy Jean of Amy Jean Eyebrow Couture brow agency, Sydney.
For healthy, stronger lashes
AMY Jean is the lash queen of the Hollywood Elite like Naomo Campbell, Mel B, Data Goodrem & Danni Minouge just to name a few. the additional coating of  keratin helps to seal and nourish the natural lashes and ensure they remain healthy and strong throughout the post treatment cycle.
Lift your individual lashes from the root for up to 6-8 also includes Lash Tint and Take Home Strengthening Keratin Lash Serum. Suitable for all length s of natural lashes, short, medium, long etc and suitable for all skin types and ages.  Not recommended for very short , thin or very weak lashes.
Lash Lift results vary from subtle to dramatic depending on each individual and technical factors. Lift results vary from subtle to dramatic depending on each individual and technical factors. dramatic depending on each individual and technical factors. 
​Silicon moulds to lift and curl lashes to their absolute perfection. The treatment is an instant root lift for natural lashes and we guarantee the results will "freshen" your eyes and make you appear even younger.  Treatment  will end with a healthy dose of keritin.   This treatment is perfect for our clients who don't like the high maintenance factor of lash-extensions.
What are the benefits?
Enhances your natural eyelash, no extensions needed
You won't need your eyelash curler or heated clamp anymore
Makes your morning make-up routine faster
Low maintenance
Non-invasive
Affordable
Glamorous
Opens the eyes
Gives you a fresher, younger look
Defines and curls straight lashes
Enhances longevity of lash tints
Enhances the lash without the need for mascara
Perfect for holidays, special event or every day
Safe, hygienic treatment
Lasts for weeks 6-8 weeks (depending on your natural lashes growth cycle) and after care
__________________________________________
BEFORE  YOUR APPINTMENT
Test patch & Consultation is required 48-24 prior lash lift appointment. NO TEST PATCH NO APPOINMENT.
PLEASE ARRIVE TO YOUR APPOINTMENT COMPLETELY FREE  MAEKUP INCLUDING  EYE MAKE UP
Also, you must stop usage of waterproof mascara at least 2 days prior to your Lift!
Please remove ant contact lenses
Do not consume any caffeinated beverages before your appointment. Caffeine can cause your eyes to flutter during the appointment
LASH LIFT AFTER CARE
DO NOT use water/steam/heat/mascara/oil for 48 hours.
Be careful when sleeping as the lashes take 24-48 hrs to fully set.
Swimming should be avoided 48 hours
Avoid other beauty treatments for 48 hours
No eye makeup for 48 hours
Do not use oil based or strong make-up removers or cleansers.
Avoid getting lases wet 48 hours after a lash lift and tint.
They may strip the tint colour that has been performed or may  damage the direction of the lash lift

Do not use harsh produces on your lashes
with your lashes, no rubbing , pat gently to dryAvoid waterproof mascaraDo not use a curling wand
Do not sleep on your face or on your side where your lashes are rubbing against the pillow encouraging  the lashes into an new direction. If you client wears an eye mask to sleep,
STRENGHENING SOILUTION is Highly recommenced to purchase  after your lash lift, to keep your lashes , strong. healthy , hydrated and results to last longer. $25
This can be used before regular mascara as a primer (allow 10 mins to set) or on its own a clear setting mascara.